Steve Smith's monthly look at data from the Bank of England.
The UK base rate remains at 0.5% per annum after a unanimous decision at the January MPC meeting. The rate has been held again in February following a fall in CPI to 0.55% per annum in December.
The MPC minutes for January suggest that CPI fall in December had not been expected a couple of months earlier and also indicate that CPI may fall to zero in February/March.
The first increase in base rate is now very unlikely to be before the second half of 2015. GBP LIBOR 6 and 12 month rates edged lower in January.
In the chart below shows the CPI trend on the right axis and GBP LIBOR on the left axis.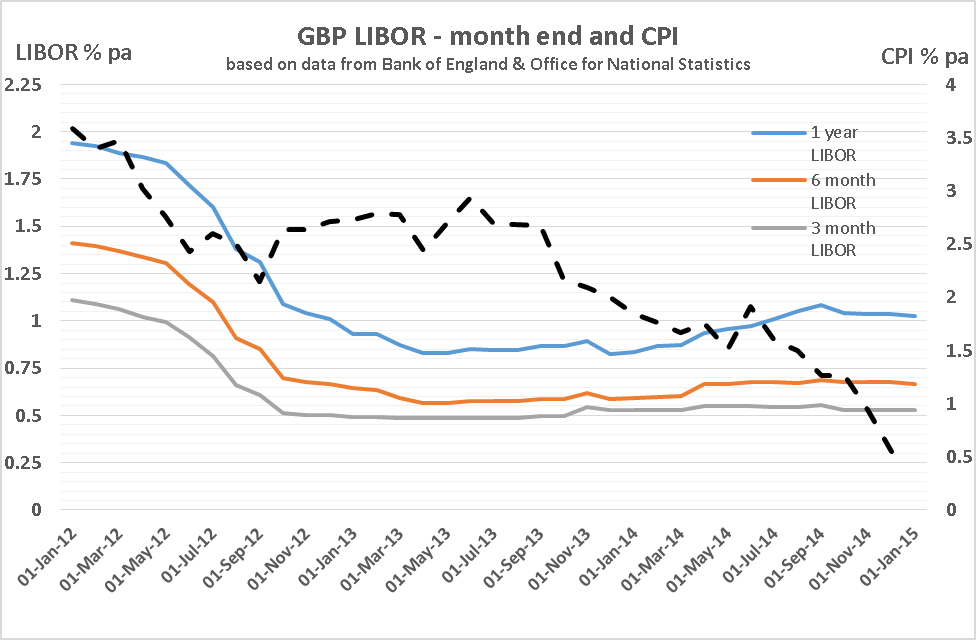 © Icknield 2015   Data sourced from the Bank of England database & ONS
In January 1 year and 6 month GBP LIBOR both fell by 0.01% per annum ending the month at 1.025% and 0.665% per annum respectively whilst 3 month GBP LIBOR held at 0.53% per annum.