Steve Smith's monthly look at data from the Bank of England.
The UK base rate remains at 0.5% per annum and looks set to stay there well into 2015.
At the October Monetary Policy Committee and for the third month running 2 members (Ian McCafferty and Martin Wheale) voted against holding the rate preferring an increase to 0.75% per annum. Martin Wheale was subsequently quoted in the press as saying he will continue to vote for an immediate hike in rates.
The latest Monetary Policy Committee minutes comment on September's CPI which was much lower than expected. The recent trend of CPI has been steeply downward and has halved over the past 12 months which is impacting views on the timing of the first increase in base rate.
In the chart below we have added the CPI trend (right axis) to the GBP LIBOR (left axis). For the first time in almost a year 3, 6 and 12 month GBP LIBOR all fell slightly.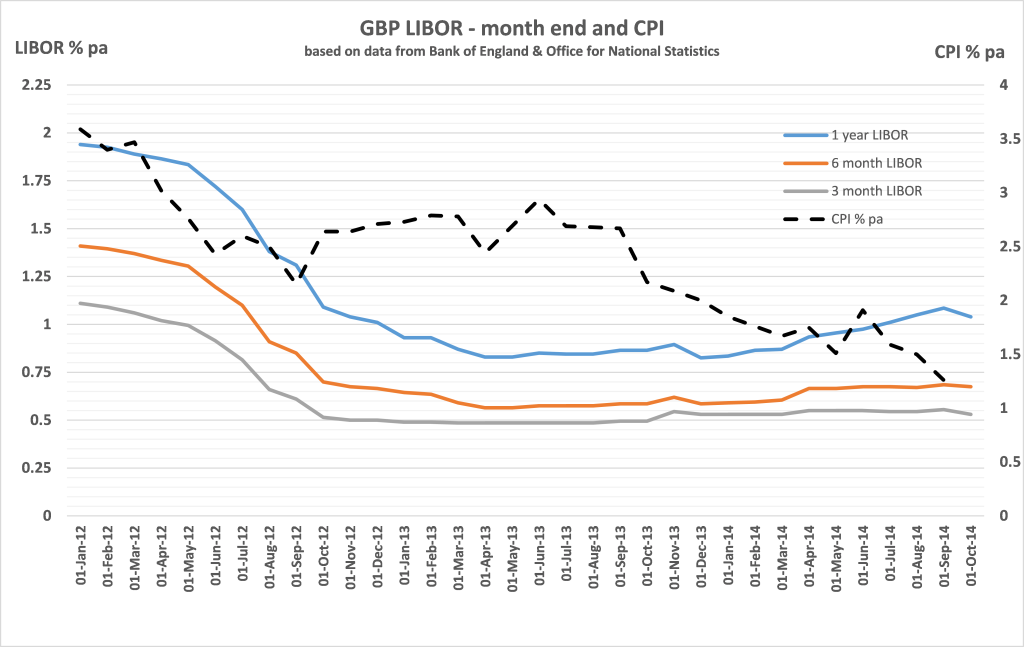 In September GBP LIBOR changed as follows:
3 month fell by 0.025% to 0.53% per annum
6 month fell by 0.01% to 0.675% per annum
1 year fell by 0.045% per annum ending the month at 1.04%% per annum
I tend to agree with the minority on the MPC and feel a base rate increase to 0.75% per annum now would be the best answer in the long run. However I doubt the MPC view will change quickly and based on trends in GBP LIBOR the first increase in UK base rate is most likely in Q2 or maybe even Q3 2015.