Steve Smith looks at data from the Bank of England.
The UK base rate remains at 0.5% per annum and the minutes of the 9/10th July Monetary Policy Committee meeting show that the vote to hold at that rate continues to be unanimous.
Q4 this year or Q1 in 2015 remain the most likely period for the first increase which is expected to be a 0.25% increase to 0.75% per annum. Whilst a small increase in historical terms it will make base rate 50% higher than it has been since March 2009.
1 year GBP LIBOR continued its gradual rise in July but 3 and 6 month GBP LIBOR did not rise in the month.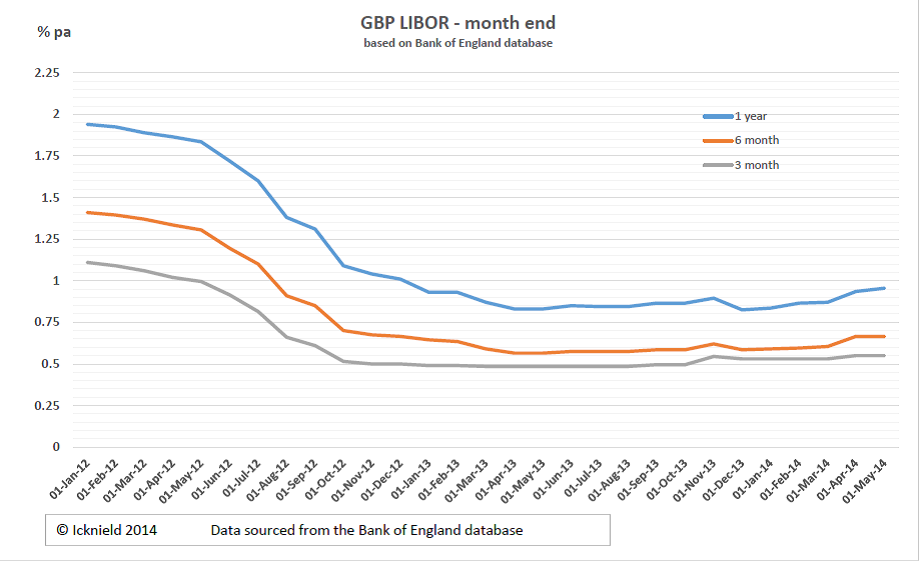 1 year LIBOR rose by 0.035% per annum during July ending the month at 1.01%% per annum. 6 month GBP LIBOR was unchanged at 0.675% per annum in July whilst 3 month GBP LIBOR fell by 0.005% to 0.545% per annum
Based on trends in GBP LIBOR the first increase in UK base rate looks more likely to be in Q1 2015 but Q4 2014 cannot be ruled out.